CONTENTS:
TK560 Main
Communicators
Phasers
Tricorders
Helmets
Blasters
Stormtrooper Armor
Rebel Fleet Trooper
Lightsabers
Astro-Mech Droids
How-to Guides
Vacuform Table
Cylon Centurion
Viper Pilot Helmet
M41-a Pulse Rifle
Motion Tracker
B5 PPG
Retro Box Designs
Repair/Restoration
Replica Parts
40th Anniversary
Replica Weapons/Gear
Reenactment Units
ME262 Project
Civilian Marksmanship Program
M1 Garand Rifle
M1903 Springfield Rifle
M1 Carbine
Discussion Board
Lauren Photo Albums
David's Photo Album
Egner II Design
Fan Film Project
The Mac Plus Project
Please note, that the images, logos, and respected artworks, are property of the original copyright owners. TK560 has no affiliation with any of the intellectual property owners. This is a fan site dealing with movie and television replica props, original GIjOE action figures, World War II memorabilia, and marksmanship/ firearms interests. Most of the images used on this site are photographed by the site owners. Official logos are used to identify specific products/ manufacturers.

Star Trek The Original Series
1966-1969 Hand Phaser I & II
Star Trek Phaser Reference Images

Hero: [click image for larger view]
This version is the ultimate version of the prop. As seen in the mid-first season. Watch the episode "Conscious of the King" to see this in a couple of closeups. This is the fully functional version with a GOW bulb, raising sight hood and removable Phaser I.
Midgrade or "Dummy": [click image for a larger view]
This one is a more practicle version made of cheaper materials and often times used for close-ups. This image is from the episode "The Omega Glory" It differs rom the hero in several important ways: no internal mechanism for the GOW, or the raising sight, unclear if the Phaser i is removable, and the metal fins in the rear are painted on.
"Crapazoid" or "$1.98 specials": [click image for larger view]
Most common version seen in the Original Series. Made from a vac-u-form- process with cheap materials, this version has a mis-formed nozzle, and a short handle. Also note this version has painted on fins.

Please note these images came from the original TV series. All copyrights are the property of the original copyright owners. These images are provided here as reference only.
Roddenberry/HMS Phasers:

From Star Trek [the original series, [1966-1969], originally, constructed by Projects Unlimited' co-owner, Wah Ming Chang for Pramount Studios, its intention was to give Gene Roddneberry's new science fiction TV series, a "utilitarian" look. This page has many version of this visionary modular personal hand weapon. The one pictured, is a replica from Roddenberry.com's online store, these $200 kits require several hours to build, but are worth every penny and every minute. Sometimes called HMS phasers, [named after the prop shop that makes them for Roddenberry.com] These kits are from the same moulds that were built for the Star Trek Deep Space 9 retro 30th anniversary episode Trials and Tribble-ations. If you have not seen this episode, it is available online. Even if you are not a fan of Deep Space 9, this episode is a great one because of the original Star Trek tie-in.

Phaser II with installed Phaser I

Phaser II with Phaser I removed.

Business end of the Phaser II


The front nozzle is metal with turning bezel, the side dial turns and the trigger is metal. The rear force setting dial turns also. However, this pahser is not considered a "hero" of functioning prop. No lights or sounds. The original props cost $7000 each, and had a raising sight, retracting tip, lights, and a working Phaser I clasp. Now, a real hero Phaser II would be near priceless. Less than a dozen were ever made for the show.
23rd Century Hand Weapon kit:

Back in the 1990's, a "garage" company began selling unofficial 23rd Century Hand Weapon kits. These were available at conventions and in the back of Star Log magazines. After building up a Roddeberry kit, I made this one picked up off Ebay. Composed of mostly all styrene, these kits are easy to work with, but require intermediate modeling skills. Note, this unofficial version has no metal parts. The type I phaser is thinner and less detailed than the Roddenberry one. I have since found a second 23C kit that was built into a Season One Black and White Phaser. This will be upgraded with metal parts, and an operating sight.

Phaser II with installed Phaser I

Phaser II with Phaser I removed.

Scene from the "Trials and tribble-ations" DS9 30th Anniversary episode.
HMS #1 & #2

After building up a Roddeberry kit, I knew I wanted to add some more phasers to my collection. Then, suddenly, Roddenberry.com stopped selling the kits. After contacting several sources, I managed to scrounge up two HMS phaser bodies, p1's, and handles. These were not complete kits, all the small parts were missing. The fins, side dials, 10-tunrs and nozzles are all from ASAP board members. These have working triggers, and one is going to have the same function as a Hero. The diamond metal and the P1 mid-plates are made from scratch.

HMS #1 Phaser I & 2 nearly finished.

HMS #2 "midgrade" almost finished. Stillto do, add the 10-turn, and blue jewel on the P1.

Here is another shot of the hero P1 still under construction.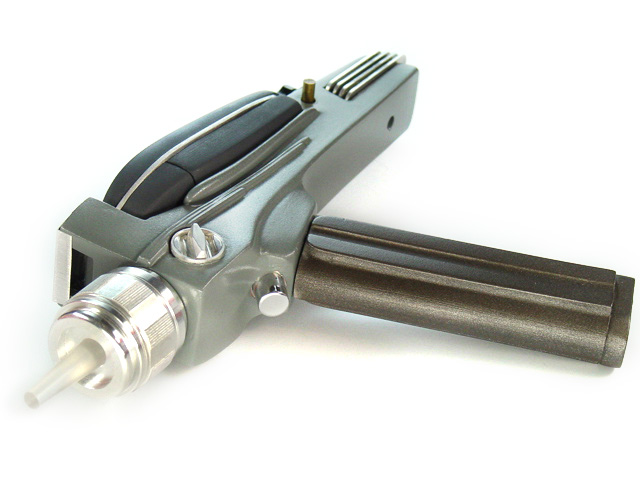 Finished HMS #1
"YOUCANSEE" ASAP's Board member's Phaser Replica from Wood

Back in the 70's if you were a young Star Trek fan and wanted a prop, you have very few options but to make one. Few references were available, and as images were published, eager young fans could make a prop replica from hardware store items. Eventually this fascination with Star Trek props lead to the "Convention" specials, and the later cottage industry of prop replica making. Will, was a fan, and wanted props too, so he set out to make a communicator and a Phaser II. As a fellow board memeber and replica prop maker, i wanted to share with you his work.

Thanks Will, for images, great job on the props. Click here for more images

Phaser II with installed Phaser I

Phaser II with Phaser I removed.

Communicator handmade by Will.
Click here to see some really cool scratch built communicators build by Will. Great Job!
The diamond foil material can be found at Walgreen's in the form of a woman's make-up kit. $10 and has enough material for lots of phasers. This material can be painted brass or gold, and with the additon of a few push pin holes, makes a great substitute for the Universal-TR8 speaker material used on the communicators and Tricorders.
Rumor has it the nozzle is a found part from an old Japanese binouclar, and the side dial is from an old 1940's era Kodak camera.
Todd M. kit

A few years ago, a respected prop artist made some of the nicest TOS phaser kits then available. This one has been upgraded with metal parts. As I learn more about the TM phasers, I'll post the info here. As I understand it, these were shut down by Paramount studios.
Masterpiece Models [John Long] Phaser kits

Considered to be the most accurate Phaser Kit available, the MM or JLong kits are currently available from the Masterpiece Models web site. These are nice kits, and the one presented here has been upgraded with additional metal parts. John Long used an original Hero prop to do the master moulds for this kit.
Knock Offs

I got this resin recast 23C kit from an Ebay auction. Its pretty crappy, but with the right parts, is decent.
Scratch built kit:

As an expirment on scratch building, I will be presenting my exploits in building a scratch built phaser using hardware store parts, and a block of casting resin.
Art Asylums Phaser I/II

A new toy on the scene, these are suppose to be very nice.
Playmates Phaser II

Pretty crappy copy, but good for a toy. With lights and sound effects. Problems are, no metal parts, grip is too wide, the Phaser I is to thick and round, the Emitter's nect is too long. Trigger is too think and long.

I've created a whole page dedicated to all the kits and replicas I have. From the HMS/Roddenberry.com to my own, hand made version, its all here.

I've created a whole page dedicated to all the kits and replicas I have. From the HMS/Roddenberry.com to the famous 23Century kits, to my own, hand made version, its all here.
Metal Upgrades:
Like many, I wanted my props to appear as authentic to the originals as possible. At the same time, the real props were many times quite a dissapointment when viewed in person, so an idealized prop is my overall target goal. Somewhere between a Hero model with all moving parts and lights, and a completely static version. None of the Star Tek Original Series props made any sound. Todays, replicas with minature electronics have added sound but to be true to the original props, sound will be obmitted. Sure, I could make a real crappy looking prop that would appear just fine on film, but held in the hand, people would look at it and say, "What the heck is this POS?" In an effort to improve and otherwise enhance the look and feel of these props, many resin parts were replaced with high quality metal parts avilable through several online vendors. Many thanks go out to Gregg Moss, and Matt Munson for their help.
I know of only one Phaser replica made completely of metal. It was a Franklyn Mint Phaser I/II and by most accounts pretty inaccurate. If I manage to get one, I will post images of it here. But from what I've seen, these are really gawdy, with gold accents, and a really deformed Phaser I.
Master Replicas has been awarded an official licensee for the Star Trek franchise, and are currently offering a TOS communicator and a Phaser II. Get your credit card ready!

Last updated: November 18, 2004